Every party is at least a little bit different from every other party in some way, including the guest list, location, reason for event and the entertainment that you provide. But one thing is always certain: a thrilling carnival ride can make any type of party that much better.
As you plan for your next big  event – from a school fundraiser to corporate party – you will want to include the most beloved and exciting carnival rides for your guests to enjoy. There are so many fun carnival rides to choose from, so use this list to help you find the top thrills that your carnival needs.
Ferris Wheel
When you think of a carnival, the first ride that likely pops into your head is a Ferris Wheel. This classic ride is one of the most popular for good reason. Just the sight of it sets the tone for a fun-filled day at the carnival.
Guests will enjoy riding round while taking in the views of the entire carnival. And when they're done riding, a photo in front of the Ferris Wheel is the perfect way to commemorate the memory of the event!
Carnival Slide
There's nothing quite like racing down a carnival slide with the wind in your hair and your friends by your side. A Carnival Slide is a classic ride because they bring the rider back to childhood, no matter how old they are.
Not only can riders of all ages enjoy zipping down the carnival slide on a potato sack, but it also is perfect for a little friendly competition. The multiple lanes allow riders to race with their friends to see who will slide down the fastest. It also encourages repeat rides, because you know whoever came in last will likely want a rematch!
Teacups Ride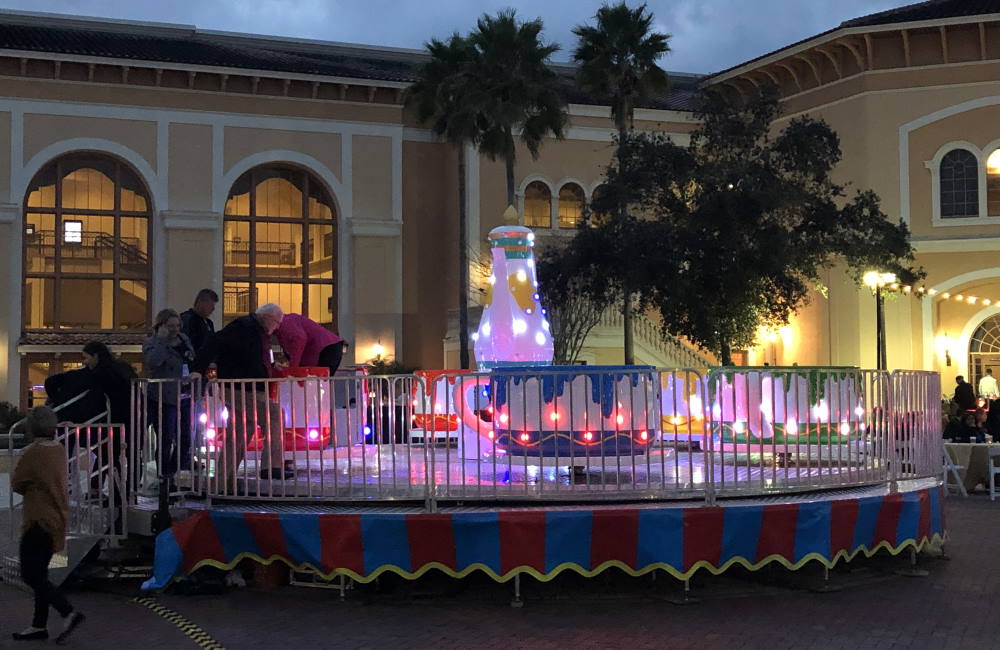 Even the most famous theme park in the world knows that the spinning Teacups Ride is a classic that will never go out of style. This interactive attraction is fun for all ages, making it a must for your carnival.
Since the riders control how much or how little the teacups spin by turning the wheel inside of the ride, guests can customize this ride to their own tastes. Little ones might giggle their way through a gentle spin while older kids can make it more exciting by seeing how fast they can turn. There's something for everyone!
Kids Pirate Ship
When visiting a carnival, kids love the thrill of going on a ride designed with them in mind. That makes the Kids Pirate Ship always a fun choice. When the adults want to check out the carnival game trailers, kids can head over to the pirate ship for their own adventure.
The ride rocks back and forth just enough to make it exciting for the riders but not too scary. It's fun and safe, so kids and parents will both be happy.
Mobile Zipline
The real thrill seekers at your carnival will not be able to resist zipping through the air on a mobile zipline ride. Climbing up multiple stories of steps will build the anticipation for the exhilarating ride to follow.
Mobile ziplines are very exciting, and they're also very safe for riders. The trained staff will connect the rider into a five point harness to keep them secure as they glide down the zipline. It's a thrill that your guests won't soon forget!
All five of these rank among the best carnival rides you can add to your next big event. Give your guests something unique to experience, and something they will never forget.