Halloween is one of the best holidays to throw a party. Just the very nature of Halloween leads to great decorations, fun thrill rides, inflatable haunted houses and games that will make this Halloween one to remember.
Where to start? The best Halloween party rentals give your guests a memorable experience and a lot of fun. Some of the best ideas are listed below, starting with an inflatable haunted house that is unlike any other in the world.
Ways to Make Your Halloween Party Special
The following Halloween party rentals provide the thrills and chills your guests want to experience. All of them work well for neighborhood parties, school and church functions, and corporate parties.
The Mausoleum
This inflatable haunted house basically channels the spirit of Halloween! Based on a concept by Fun Crew USA, this giant inflatable has an obstacle course and a giant slide, all decorated with coffins, skulls, tombstones, skeletons, bats and Jack O' Lanterns. Party guests eventually reach the top of this haunted mansion, sliding their way back to the bottom (to do it all over again).
The Mausoleum can also get converted into a haunted mansion with strobe lights and wireless speakers that channel special, "haunted" sound effects.
Halloween Bounce
For the little ones, the Halloween bounce is a bounce house with a haunted (but not too scary) twist. It's decorated with ghosts, werewolves, mummies, witches and Frankenstein's monster, all in a colorful bounce house with pumpkins at the top. It can come with a basketball hoop on the inside to spice up the event.
Halloween Thrill Rides
Halloween means thrills, which makes thrill rides a popular Halloween party rental. There's a reason why amusement parks combine their rides with haunted houses during the Halloween season – they go great together. You can choose from a large variety of rentals that will give everyone goosebumps, including these exciting options.
4-Spin Gyrosphere
This ride allows four riders to experience weightlessness as they sit in seats on two rotating arms, rolling, tumbling and spinning. It's the closest most of us will get to knowing what it really feels like to float in space.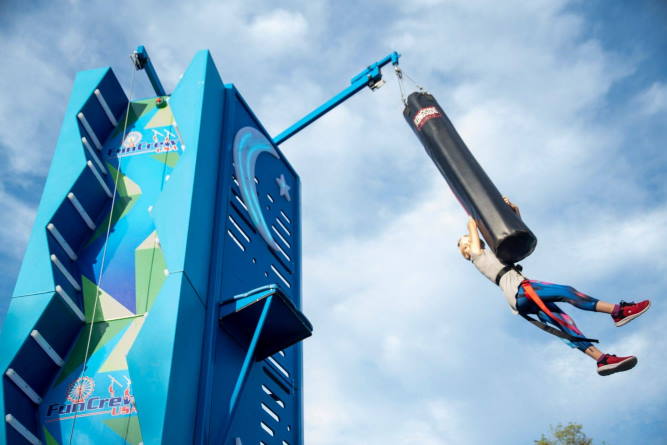 Leap of Faith Challenge
This is the ultimate climbing wall, and it's especially thrilling at night when lit by LED lights. You can choose which side to climb up the 24-foot wall. Each presents its own challenge, as does the leap from a podium onto a swinging, inflatable bag.
Xtreme Laser Tag
From the outside, it's a grey inflatable. On the inside, it's a darkened maze where teams can take each other on in the ultimate game of laser tag. Up to 10 people can play at once, making this the perfect addition to a big company Halloween party.
Mobile Zip Line
Party goers climb up a three-story stair to a platform. From there, they hook on a line to take the ride of their lives down a zip line to just a foot off the ground, experiencing a breath-taking ride along the way.
These Halloween party rentals can up your party's game, making it one of the most memorable Halloween events anyone has ever experienced. Look over the options and decide which one provides the thrills and chills you are looking to deliver to your guests.