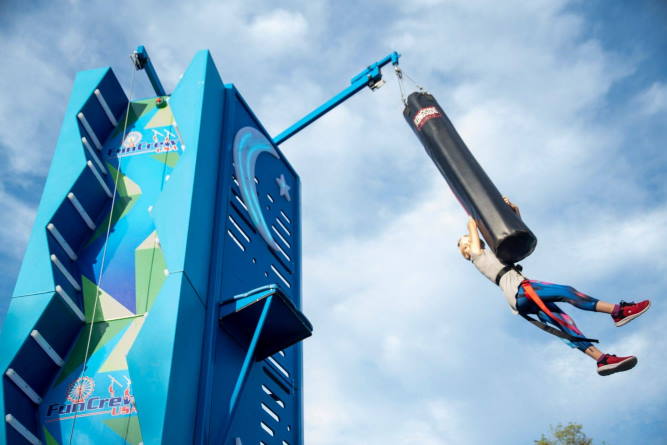 Leap of Faith Challenge Rental Overview
3 Climbing Walls and 24′ Tall
There are climbing walls, and then there are climbing walls. The Leap of Faith Challenge is in a category all its own. Fun Crew USA offers this entertainment rental to those who are adventurous at heart. It's what you need to make your next corporate party, fundraiser or festival truly memorable.
The Leap of Faith Challenge has 3 different types of climbing challenges depending on which side you choose. The 24-foot tall tower provides an exhilarating climb, and the sturdy structure allows more than one person to climb at the time. The climbing challenge includes safety equipment to ensure everyone enjoys themselves without injury.
No one is going to be bored at a party that features this kind of challenge. It's also eye-catching, with a great design and an aqua and blue color scheme. LED lights make it look spectacular after the sun goes down. Contact Fun Crew USA to find out more about this and other thrilling entertainment for your next festival or event.
Reserve This Rental Today!