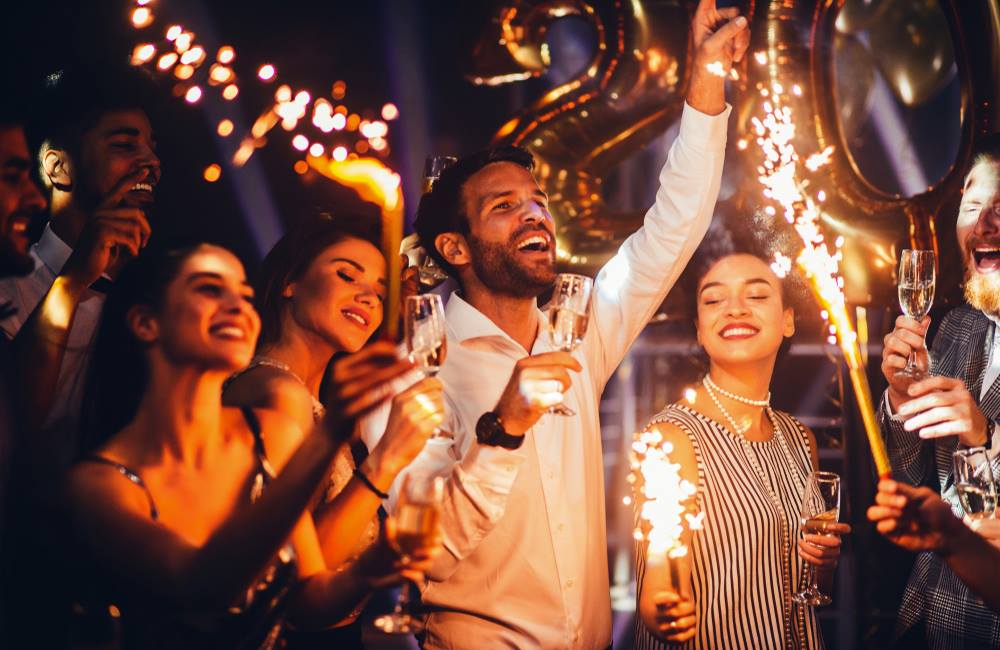 The New Year is right around the corner. It's time for making resolutions and setting goals for the next 12 months. But first, it's time to send out the old year and ring in the new one with some style – and fun.
If you're planning a party, consider some of these trends and tips below. They can make your New Year's Eve party a special and warm event for everyone to enjoy – including you, stressed out party planner!
Golden Champagne Flutes
Here's a Do It Yourself idea from The Spruce Crafts. It just takes three materials – a flute, some adhesive vinyl and a pair of scissors. A bit of work results in memorable glasses for you and your friends to toast with at your New Year's Eve party.
Confetti Balloons
Another cool idea from Spruce Crafts is to decorate balloons with large pieces of confetti. Then, when the New Year arrives, you and your guests can pop the balloons and send confetti flying to celebrate the big moment.
Fun Games
Entertain your guests by giving them fun games to play. We're the Fun Crew, so of course, we have plenty of ideas. Here's one that's perfect for a night party – the LED Ping Pong table. You can even customize the colors to fit your party decor at your New Year's Eve party.
Selfie Station
People are going to take selfies, anyway, right? Why not give them a cool backdrop and the chance to create an image specific to your party? The Magic Mirror selfie station allows you to do that. You can customize to have whatever words you want right on the photos, which are printed instantly and on demand.
Great Appetizers
Food ideas are everywhere. Really it comes down to what you think your friends like the most. The overall idea is to keep it easy to grab with small portions. Some great ideas come from Delish, including shrimp dip, garlic bread pizza bites, bacon spinach dips, stuffed mushrooms, and caprese bites. It makes us hungry just to read that list.
Drinks
Champagne is the traditional drink of choice for New Year's Eve. But maybe you don't like champagne. Or your friends don't. There are, of course, about a zillion different cocktails you can make. Delish offers a list that includes peppermint mimosas, champagne margaritas, pear-prosecco punch and an apple cider old-fashioned.
Frozen Drink
Or maybe you want to go with something that is easy to set up and use and produces concoctions that pretty much everyone on the planet enjoys. That would be the frozen drink machine. It has a double barrel that allows you to have two different flavors flowing at the same time. It's also perfect for non-alcoholic slush drinks if your crowd is mostly kids.
Something for Kids
Speaking of kids, you'll want to keep them busy and having fun as they try to stay up until midnight (harder from some than others!). You have a huge variety of choices, including bounce houses for the little ones and a vast number of games.
Budget Ideas
If you have a tight budget, it doesn't mean you can't have a great party. Just take some common-sense steps. Go with the DIY ideas on this list. Remember to serve small appetizers rather than planning on a giant meal. Keep the guest list to your closest friends and family – they are the ones you want to ring in the New Year with!
Keep these tips and trends in mind as you get ready for the big night. Here's hoping next year is a great one for you!