Everyone who hosts Thanksgiving has more than enough to do. But at some point, you are going to have to consider how to find appetizers for picky eaters. There's one in every crowd. Or two or three.
It's not always easy to figure out what party guests like to eat. That's even tougher when you want to serve dishes that keep with a Thanksgiving Day theme. You can put out a bowl of mixed nuts or Wasabi peas, but it might not feel quite right.
No worries! If you're putting together your Thanksgiving Day plans, here are some ideas for appetizers for picky eaters.
Meat Appetizers for Picky Eaters
No matter what you think about carnivores, you are going to love them if you are hosting Thanksgiving. That's because they are the easiest to please. Odds are they will eat everything on this list. But here are some meat-centric appetizer ideas just for them.
Flatbread with Italian sausage. Yes, it's basically pizza. But a really, really good pizza – and you can make it with butternut squash in place of sauce to give it that Thanksgiving feel.
Cranberry meatballs. Get quality meatballs from your grocery store and make them special by adding cranberry sauce
Sausage rolls. Simple roll the sausage in dough and bake them. Add some cheese to make it even better.
Bacon-wrapped green beans. Or, really, bacon-wrapped anything. Because bacon.
As with all these ideas, the above are appetizers for picky eaters that you can make in advance.
Vegetarians
At this point, everyone is used to serving vegetarians, as they have been around in large numbers for many years. Here are some ideas for the holiday.
Spinach and Artichoke dip. Relatively healthy, just serve with warm bread, chips or bagel bites.
Cheese Monkey Bread. Put garlic bread into your bundt pan and cover with Gruyere cheese to make an awesome appetizer.
Marinated mushrooms. Add these delicious treats to a tray that includes cheese wedges, olives and nuts.
Roasted Red Pepper Soup. Or any kind of soup that uses only vegetables. It will provide warmth and cheer on a chilly Thanksgiving Day.
Warm Pimento Cheese Dip. Serve this with chips. Cheese dip never really fails.
Pescatarians
These are the people who stay away from meat but are OK eating fish and other seafood.
Tempura sushi. You don't want to mess with raw fish on Thanksgiving, but tempura offers a chance to offer something different for an appetizer
Coconut shrimp. Why just have shrimp when you can have coconut shrimp?
Smoked salmon bites. Salmon is both healthy and tasty, especially if you serve with a spicy sauce on the side.
Shrimp cocktail. A classic appetizer idea that will please the shrimp lovers who don't like coconut
The Kids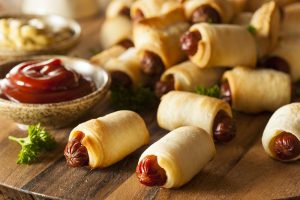 Ah, yes, the kids. The pickiest eaters of them all. Depending on the type of kids you are dealing with, you might solve all your Thanksgiving appetizer challenges by giving them a pizza slice or two to nibble on – this might be a great place to use the flatbread and Italian sausage idea listed above.  Here are more ideas.
Pigs in a Blanket. Hot dogs baked in dough. What's not to like?
Cream cheese celery. Parents have been getting kids to eat celery for decades by filling it with something tasty.
Cheese ball and crackers. Kids love cheese just like everyone else.
Cheese-stuffed turkey meatballs. Another winner, especially for those kids who love meat.
Pull a few ideas from this list into play on Thanksgiving Day to make appetizers for picky eaters. They can make your Thanksgiving Day go much better and give you more time to enjoy the food yourself!