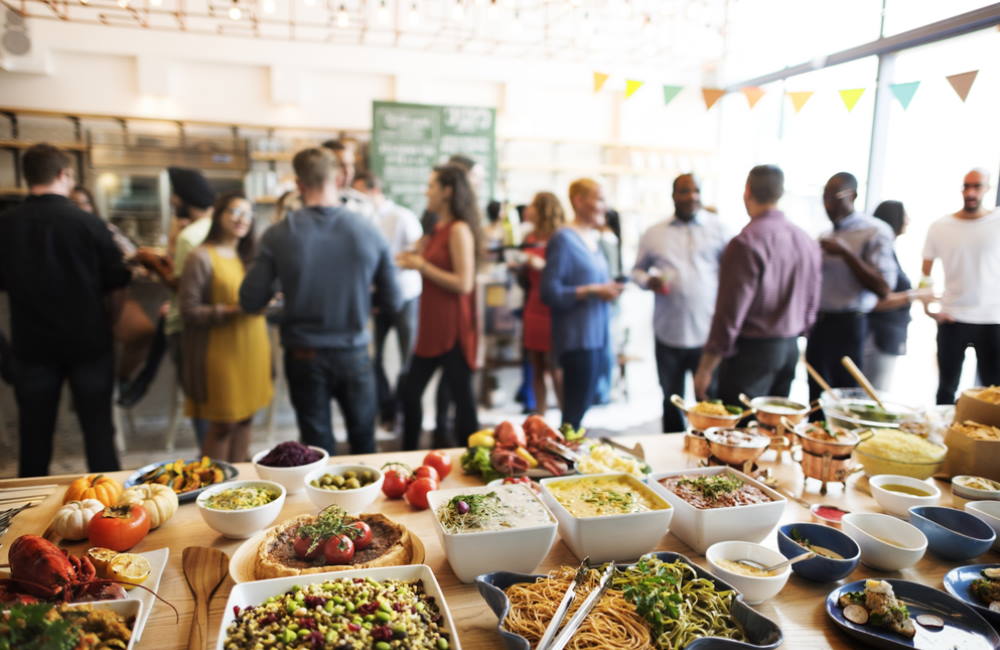 Party guests can be a picky bunch. Luckily, people continue to come up with new ways to keep palettes happy for party guests whether they are meat-eaters, vegetarians, pescatarians or even those picky eaters.
Why is this important? Because food is a big deal at parties. A recent survey found that food is the second most important factor for people when deciding whether to attend a party or event. It's even a bigger deal than who is performing or speaking.
That survey from Eventbrite also found that:
62% of those surveyed would go to a party just for the food
66% remember a bad meal they've had at a party
80% said they are more likely to go back to an event that served good food
Clearly, food is a big deal. Here are some tips to consider based on the type of eaters at your party. Most of them are also cheap party food ideas that won't break your party budget.
For Meat Eaters
This might be the easiest crowd to please. For some groups, Thai chicken wings or beef cuts might work. But there are also ways to get a bit fancier.
A taco bar works well for meat lovers and anyone who loves Tex-Mex, which is everyone. Provide hard and soft shells, seasoned ground beef, lettuce, tomatoes, cheese, salsa, sour cream, guacamole, and chopped cilantro. Add some chips and pico de gallo on the side.
Other ideas:
Sloppy Joe's (the nostalgia factor alone is excellent)
Roast beef sandwiches
Ham sliders on Hawaiian bread rolls
Wonton cups filled with your favorite seasoned meat
Vegetarian Party Guests
This might be half your guests these days. And that's good because there are many great meatless party dishes out there.
Any type of salad bar will do, especially if you include great choices like high-end cheeses and freshly baked bread. Also, a pasta bar is a tasty idea, with a variety of sauces available and, of course, fresh bread.
As for more substantial dishes, here are 9 ideas.
Cheesy corn fritters
Meatless chili
Any type of fries (sweet potato, eggplant, etc.)
Spinach dip stuffed mushrooms
Baked cheese rolls
Vegetables with homemade ranch dip
Tortilla chips with fresh guacamole
Fruit salad (with a wide variety of fresh fruit)
Vegetarian pinwheels
Guests Who Are Pescatarian
With pescatarians, you can break out the great fish dishes (they shun meat but are cool with fish). This opens the door for introducing salmon fillets or burgers, fresh cod, yellowfin tuna or whatever fresh fish is available at the market. Also, it's a wonderful opportunity to offer sushi (although you might want to stick to tempura).
The Picky Eater Party Guest
The bane of every event planner is the picky eater. What can you do with this person? Offering any of the dishes above might help, as every one of them is good and they also cover the waterfront in terms of the types of food you can offer.
You might also want to be realistic and stick mostly with cheaper foods. No reason to spend too much. The odds are great that this person might not eat that much anyway, waiting until after the party to hit their favorite late-night diner!
For healthy picky eaters, try small snacks like high fiber chocolate bites or blueberry baked oatmeal. Broccoli and cheese nuggets might work, as well. Also, some picky eaters will try trendy party foods just to try them, so consider rosemary roasted almonds, a light pasta salad or baked brie bites.
These are some ideas to keep your party guests happy to see the food table at your event. You can't please everyone all the time. But you can please some of them some of the time. Except maybe for those picky eaters.