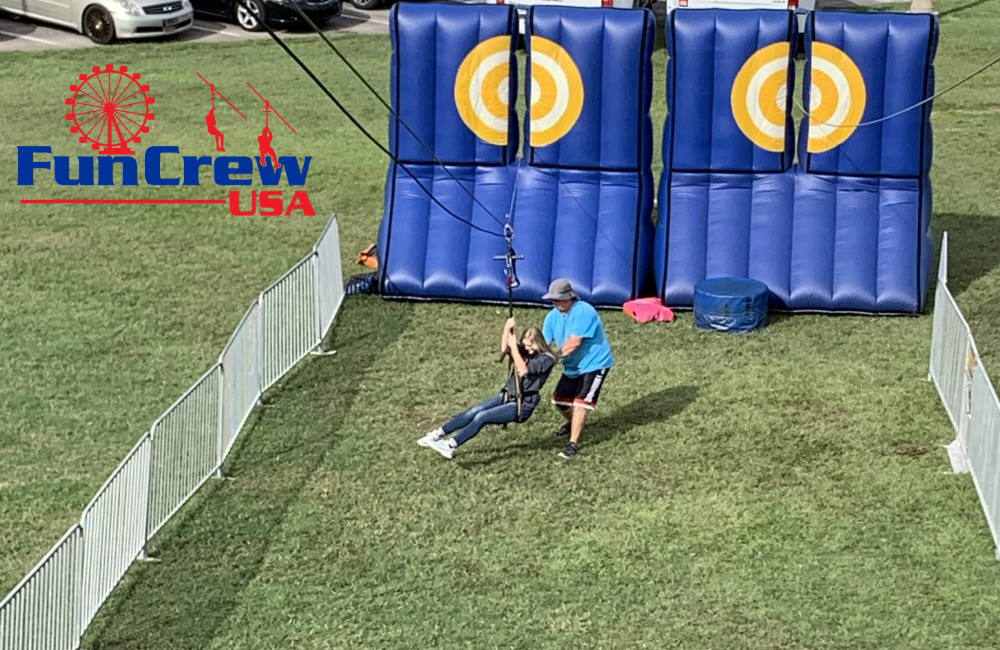 When customers rent from Fun Crew USA, they get party rentals that maintain the highest standards for safety and cleanliness. That commitment to keep customers safe is one of the reasons Fun Crew USA has a well-deserved reputation as the leader in party rentals in Central Florida.
Social Distancing Carnival Rides and Games
The emphasis on ride safety and cleanliness is a focus from Fun Crew USA. When you contact the company, a staff member will walk you through a handful of safety-related issues. They also can answer any questions clients need to ask about safety. That focus on keeping customers safe includes the following.
Cleaning All Products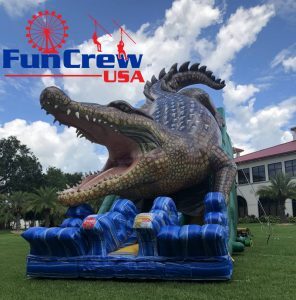 Fun Crew USA keeps all the company's party rental inventory extremely clean and dry. Working in Florida, they know heat and humidity will cause mildew within seven to 10 days without routine, thorough cleaning.
Fun Crew staff open up every rental after customers return it. Workers vacuum the rental, disinfect it with appropriate cleaners and inspect for any rips or tears to ensure the highest level of safety. It then gets rolled and palletized so that the equipment risks no damage within the warehouse.
Inspecting Rides For Safety
There are many levels of inspection for all Fun Crew USA rentals, all with the intention of keeping customers safe as they enjoy their party rentals.
At Fun Crew USA, staff inspect all rides after installation and after return to the company's warehouse. Staff observe and check all moving parts as well as welds to ensure no road hazards on the drive back caused any issues for the next event.
How Fun Crew USA Keeps Customers Safe
Also, rides are inspected every time they go out to the public by a Florida Department of Agriculture certified inspector. Fun Crew USA also brings in a third-party inspector every year who reviews the rides and signs an affidavit showing they are in compliance with the manufacturer's specifications and safety operation guidelines.
A Great Track Record
Fun Crew USA receives high compliments, reports and audits by field agents from the state, as well as insurance companies and manufacturers, for how well the company maintains its rides. One of the main factors in this area is that Fun Crew USA has invested in a warehouse to safely store all rides indoors, protecting them from damage by the elements.
Protection from rain is important as it is one of the biggest issues all ride operators face. Rain causes rust, shorting of wires and broken welds – all issues that are among the most common when rides fail inspections. That is not an issue at Fun Crew USA.
Safety Concerns For Customers
If you are thinking of contacting Fun Crew USA, the following are some of the biggest concerns a staff member will ask you about in the area of safety.
Can you fit the attraction in the location specified? It helps if customers have specific dimensions for where they plan to place the rental.
Is the location on cement or grass? This makes a difference, especially for water slides or heavy rides.
Is the area free of any cables or overhead wires?
Will the client get the visibility they hoped with placement or will something block the view (such as trees or buildings)?
Are there utilities close or do they need to be provided? For example, the water needed for water slides
If the client wants rides, are they within five miles of a travelling fair that is presently running? Florida law requires getting written consent from a travelling fair owner to do so (the idea is to keep your event from competing with their traveling fair).
At Fun Crew USA, clients can rent party entertainment with the assurance that ride safety is a part of everything the company does. That commitment to keep customers safe is one reason Fun Crew USA is a respected leader in the Florida party rental market.