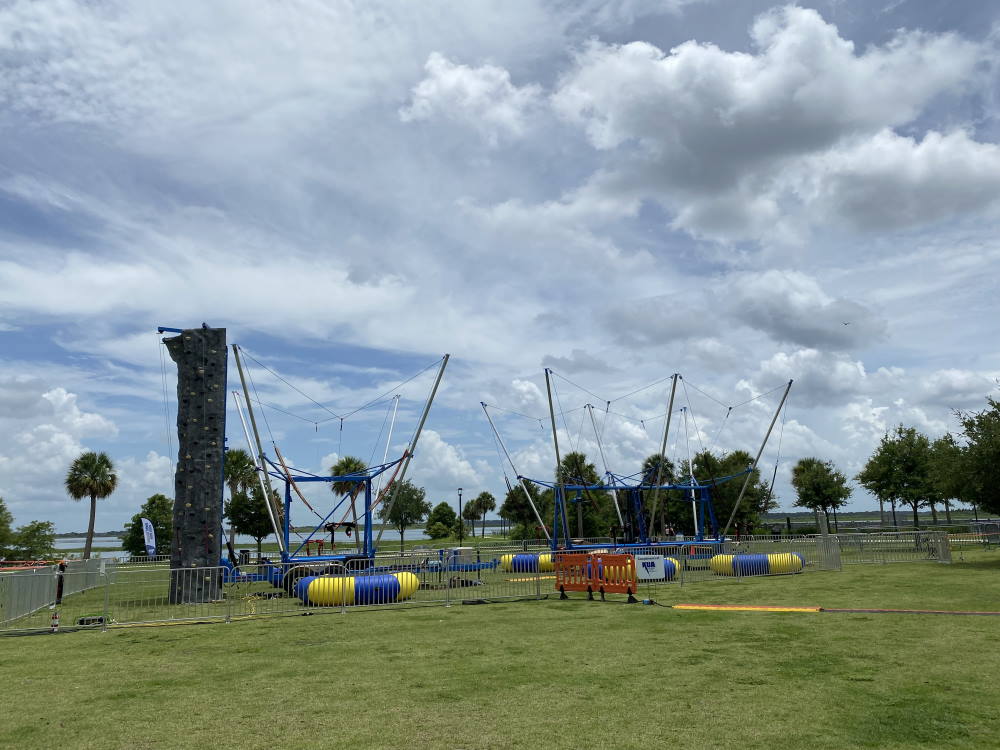 Rock Wall – 2 Bungee Combo Rental
Dimensions: 25' H,  30' W,  32' L
You can look a long time and not find something as unique as the Rock Wall – 2 Bungee Combo. It's literally what the name says – a 25-foot high rock wall with two ultimate bungee trampolines attached. It's a fun, one-of-a-kind attraction perfect for any big event.
The Rock Wall features climbs for both new and advanced climbers, but everyone gets to ring the bell when they reach the top! Everyone also wears a safety harness. The Rock Wall is a top attraction at events where planners pick attractions that engage party goers and give them a chance to challenge themselves.
The bungee trampolines also are a big attraction. Built for both kids and adults, the attraction gives people the ability to jump as high as 25 feet into the air while attached to bungee cords. They also can try flips and somersaults as they soar through the air, bouncing higher and higher.
This combo attraction is a dream come true for party planners who want attractions for active party attendees who love to try something new. It's a great addition to big events such as corporate parties, college festivals and city and county fairs and events. Give your party guests a pair of challenges that will make your event even more memorable!
Reserve This Rental Today!