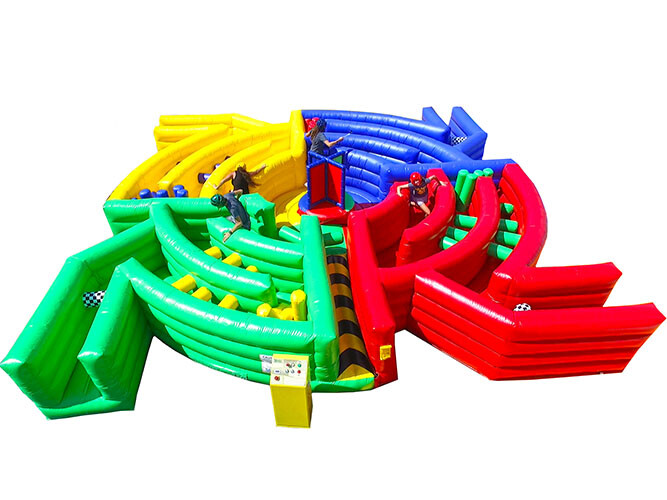 Dizzy X
Dimensions: 30'L x 30'W x 8'H
Power Requirements: (2) 20Amp   110 Volt Circuit
If you want to provide your party guests with an obstacle course with a very different twist, than Dizzy X provides the answer. This course is unlike anything you've seen, giving party guests a chance to compete in four separate obstacle course – after taking a spin on a multi-colored carousel.
Here's how it works. Four people go to the center of the Dizzy X, each of them having already been assigned a color: red, blue, green or yellow. Those colors correspond with four different obstacle course segments, all of which have an entrance off the circle at the center of the Dizzy X platform. Also in the center is the carousel, which everyone gets on and gets spun until they are dizzy, then they get turned loose into their respective obstacle courses.
The first one to get through their obstacle course wins! Of course, it's not that easy to do when you are very dizzy. That's the challenge of the Dizzy X. It's not only fun to try, but fun for other party guests to watch! This is the perfect addition to your corporate party, school fundraiser and large church event in Florida and across the Southeast!
Reserve This Rental Today!