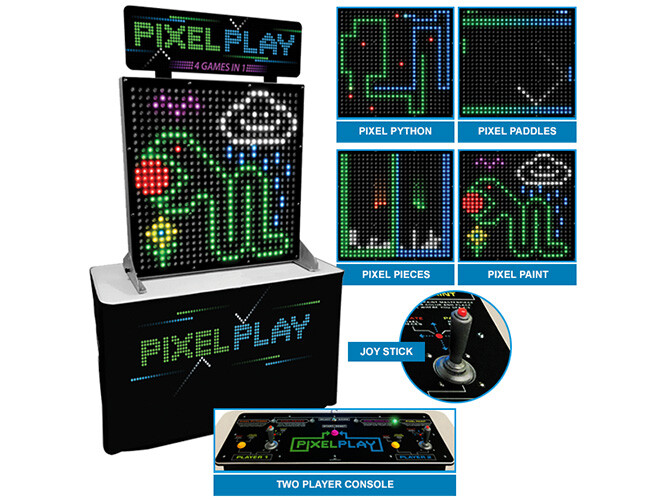 Pixel Play
Dimensions:4' x 4'  6'H
Power Requirements: (1) 20 Amp 110 Volt Circuit
Pixel Play offers four games in one game, all with a retro, '80s Game Night feel. Each game allows two players to compete against each other and is large enough for onlookers to enjoy the competition. It also has the added benefit of being easy to transport and set up, making it a great addition to a large festival, corporate party or fundraising event.
Players choose which game they want to play from a selection of options, then hit the start button. Each has their own controls for the game. The choices are:
PIXEL PYTHON. Players feed the Pixel Python, but they must avoid the walls, their opponent and eating their own tail!
PIXEL PIECES. As Pixel Pieces fall, players work fast to rotate and shift the blocks into complete horizontal lines. The more lines they create simultaneously, the higher they score.
PIXEL PADDLES. This is a variation on one of the first computer game classics, as players move their paddles up and down to try to direct a ball past their opponent. The first person to 3 points wins.
PIXEL PAINT. For the artistic-minded in the crowd, Pixel Paint allows them to create their own personal art piece by selecting a color for a pixel and then using the joystick to place it exactly where they want.
These games give you the chance to offer video game fun in a unique way at your next party. Don't pass up the chance to offer guests something utterly unique.
Reserve This Rental Today!