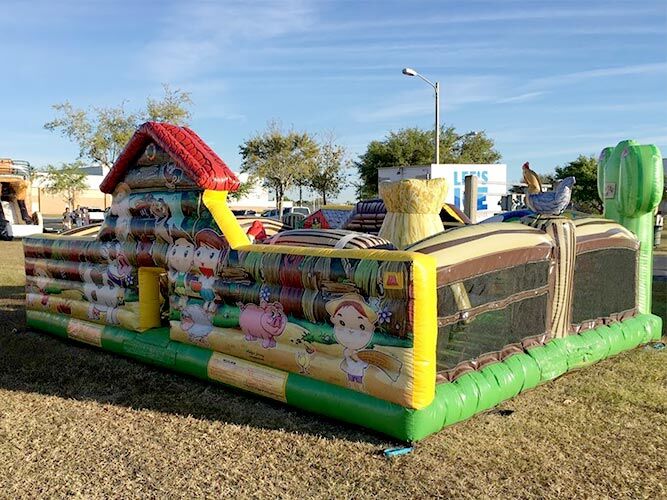 My Little Farm Bounce House Combo Rental Overview
Dimensions: 8′ H x 16′ L x 19'W
The My Little Farm educational inflatable structure is designed to educate and entertain kids in an adorable farm setting. This game offers a small inflatable climb and slide and several 3D animals and structures, such as a dog, horse, chickens, hay stock and a cactus. My Little Farm makes it fun for little kids to bounce and slide while playing with farm animals! If you want to set up a designated toddler play area, My Little Farm will make a perfect one. There are small pop up obstacles and a 360 viewing for parents to watch their smaller kids play and enjoy themselves. We could even set it up in a fenced area with a small gate so that the little kids will stay within the farm area. This would make it less stressful for parents who have kids that never stop running around and trying to escape.
My Little Farm is a must have bounce house combo for all big events that need a special something just to keep the little ones occupied and help parents enjoy the events themselves. This bounce house combo is great for church events, school parties, picnics, neighborhood events as well. Reserve it from Fun Crew USA for your next party!
Reserve This Rental Today!