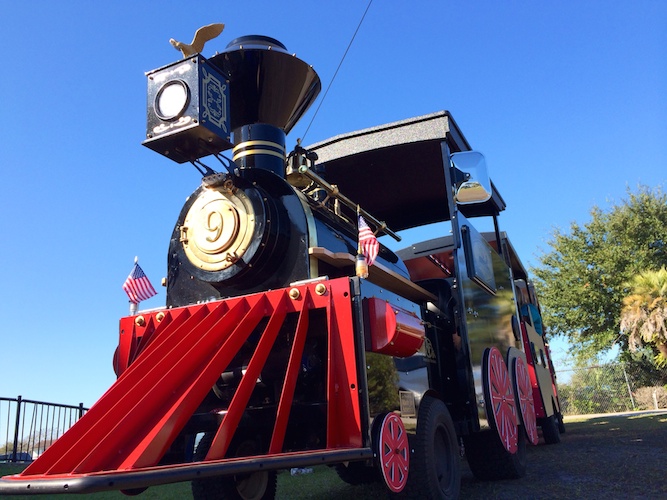 Classic Locomotive Trackless Train Rental Overview
All Aboard! Are you looking to have a trackless train that both adults and kids can enjoy for a large scale event? If so, get everyone ready to come aboard this Classic Locomotive Trackless Train. This Classic Locomotive Trackless Train rental is perfect for any type of event, especially a large neighborhood party. This trackless train is beautifully designed with red and black colors and a gold eagle on the top. The kids (and Dad's) will scream with joy "Choo Choo" as they board the trackless train. This is the closest version of the real locomotive train available for a personal rental.  The difference is that it can ride on almost any surface, from dirt roads and grass to pavement and cemented roads. The train can chug its way around your neighborhood. This Classic Locomotive Trackless Train is roughly 30 feet long and can seat anywhere from 12 to 18 passengers, both kids and adults in one trip. Everyone will have a seat belt for safety. Have a blast ringing the train bell and being the conductor! Reserve the Trackless Train rental from Fun Crew USA today!
Reserve This Rental Today!