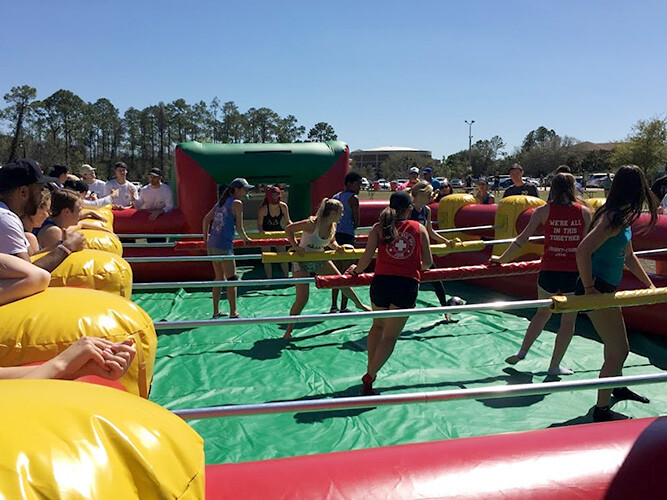 Human Foosball
Dimensions: 45'L x 20'W x 7'H
Power Requirements: (1) 20 Amp   110 Volt Circuit
Human Foosball is an update on a classic game that will provide your guests hours of fun, once they finally believe what they are looking at! Human Foosball is exactly what the name implies, an update of foosball that requires the players to get into the arena and play. It's a winner for big events and fundraisers.
The game works just like the original, except enlarged Players climb into an inflatable arena and take positions at one of the bars that cross the arena horizontally. They then attempt to kick the ball into the opponent's goal, all while staying at their position – and getting the ball past the human goalkeeper, of course.
This one must be seen to be believed. It will provide guests entertainment unlike anything they have seen, all in a safe environment with nothing but soft surfaces (including padding on the bars). It also provides plenty of room for people gather around the arena and watch the game. It's perfect for large crowds!
Reserve This Rental Today!