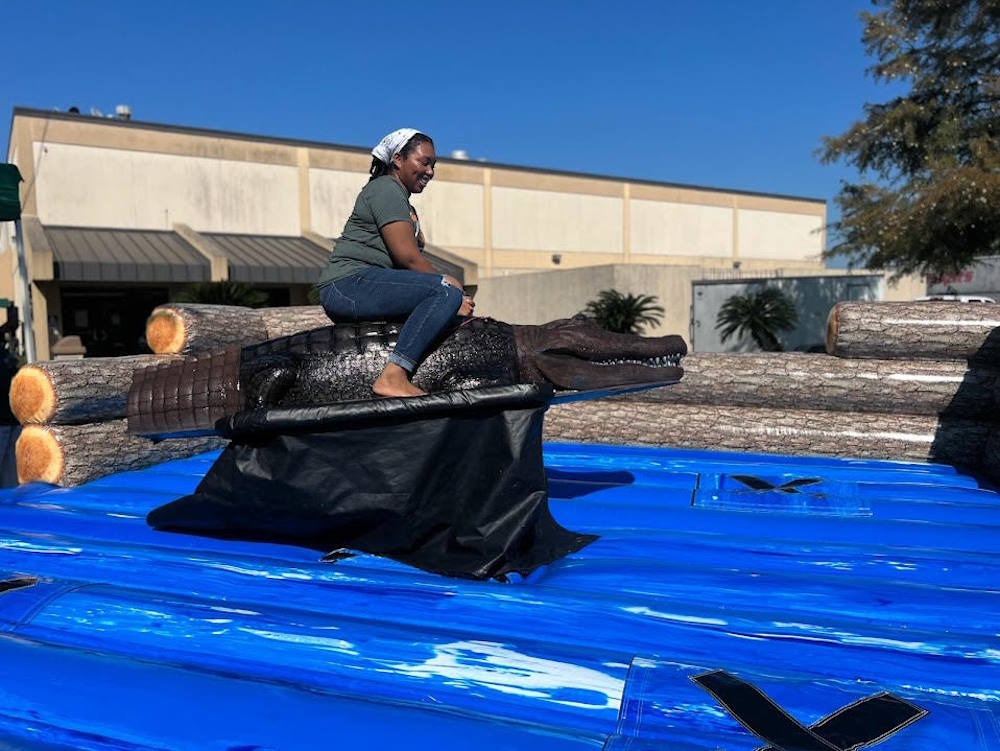 Gator Wrestlin Ride Overview
Dimensions: 18' circle
Power Requirements:  (2) 20Amp  110 Volt Circuit
Test your endurance and wrestling abilities with the Gator Wrestlin Ride from Fun Crew USA. This rowdy reptile is exactly like the mechanical bull, but with an alligator themed character. The Gator looks like he's ready to strike at your guests that are anxiously awaiting their turn. While they watch in anticipation, riders will take great selfies and action shots of their friends and co-workers having at great time at your event. Social media will be buzzing with posts from your guests talking about the amazing entertainment and experiences you made possible.
Put safety concerns at ease by knowing the platform is inflatable for a soft landing if the Gator gets too feisty. Our professionally trained ride operators will customize each riding experience based on the person's physical capabilities and age. It's an amazing thrill ride for guests of all ages to enjoy. Get ready for supportive cheers of bystanders waiting for their turn which energizes any church carnival, office party, neighborhood event or birthday party.
Looking for a different animal to ride? No problem! We have an Bull, Hammerhead Shark, Hog, Pumpkin, Reindeer and Spider.
The expert party planners at Fun Crew USA will help customize your event just the way you want. Take advantage of volume pricing for amazing savings & reserve your fun today!
Reserve This Rental Today!