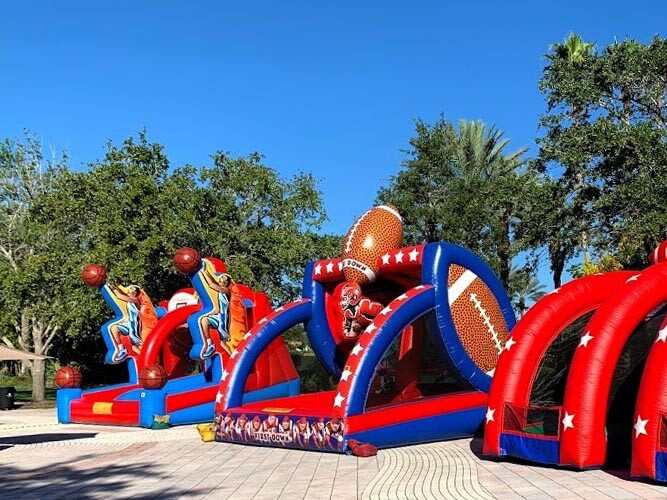 First Down Football Challenge
Dimensions: 14'W x 16'L x 17'H
Power Requirements: (1) 20Amp  110 Volt Circuit
Football is the most popular sport in the country, and this lets all the future quarterbacks (or those who think they should have been quarterbacks!) strut their stuff at your party. Competitive games draw players and spectators alike, and First Down Football Challenge is no exception.
This large inflatable features a well where each player has footballs. Each player throws the football across the painted field to a wall that has receivers. The players complete the pass by throwing to the right spot on the receivers. The goal for each player is to complete their passes first, getting rid of all their balls, before their competitor.
This colorful inflatable will entertain guests at company parties, large seasonal events and school fundraisers. The eye-catching design includes linebacker and receiver artwork, three-dimensional footballs, stars painted on red rails and a painted football field. It's fun for both those who play it and those who cheer them on.
Reserve This Rental Today!