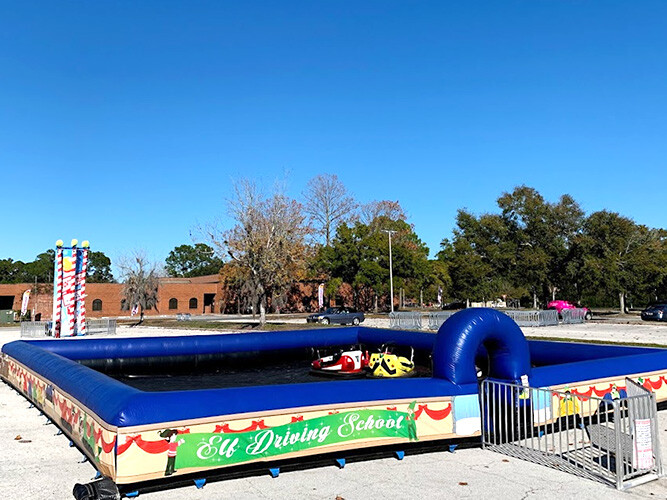 Elf Driving School
Dimensions:40'W x 40'L x 9'H
Power Requirements:(2) 20 amp 110 Volt Circuit
Bumper cars are cool. But for a Christmas party, Elf Driving School is even cooler! These bumper cars come painted with holiday-themed images and decorations, making it the perfect addition for a fundraiser, company party or large holiday event.
This is the sort of entertainment that when people walk into an event and see it, they immediately think, "This event is going to be special." People aren't used to seeing bumper cars outside of a fair or amusement park, and it's a welcome surprise. The Fun Crew USA bumper cars are portable and can operate on any surface. They come with an inflatable arena that can be used indoors or outdoors. The cars are safe for driving by adults, teens and kids.
The Elf Driving School version comes with an arena festooned with red and green decorations and banners. It also has artwork of Christmas presents and, of course, the colorful cars themselves. This is entertainment that is perfect for the holidays and will give the kids (and adults) a fun time to remember.
Reserve This Rental Today!