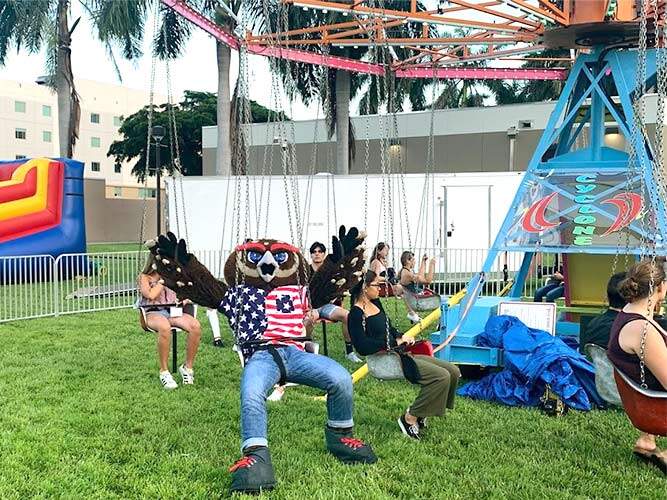 Cyclone Swing Rental Overview
Dimensions: 70' circle
Power Requirements: 50 amp  220 volt single phase
Looking for a truly classic carnival ride with a modern design? Then the Cyclone Swing is where it's at! The 20 passenger Cyclone Swing will give riders (up to 180lbs.) a thrilling 90 second experience. With speeds from 5 to 18 RPM, guests will surely defy gravity up to 1.5 G's! The nostalgic carnival ride has a seat with safety buckle that's suspended by 4 steel chains. Within seconds of the adventure starting riders will feel the chair begin to lift as they spin faster and faster.  The wind will rush by their faces as they reach top speed and a swing span of up to 70 feet in diameter! In addition to the adrenaline rush guests will experience during their ride, the dizziness will be an entertaining challenge to overcome.
The Cyclone Swing is great for Family Festivals, Adult Gatherings, College Events & more! With a weight capacity of up to 180 lbs. per seat, this classic carnival ride will be a great addition to your next community event.
If you'll have guests to entertain over 180 lbs. be sure to check out the Ballistic Swing which has a weight capacity of up to 350 lbs. per bench. Call us today to take a swing into the past with the classic Cyclone Swing from Fun Crew USA!
Reserve This Rental Today!