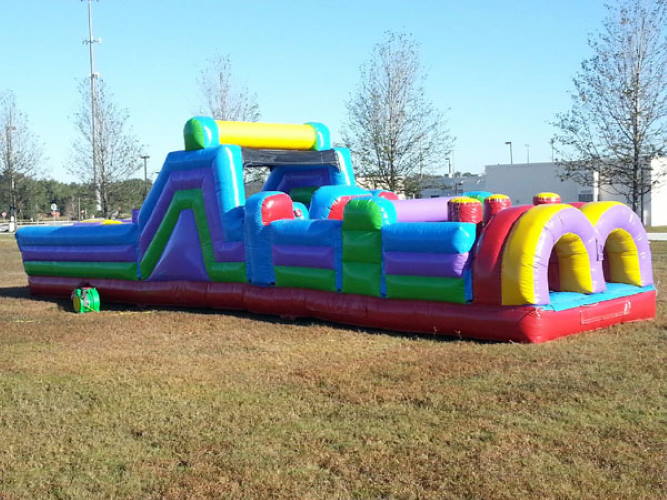 40′ Obstacle Course Rental Overview
If you're looking for a memorable and exciting challenge, then the 40' Obstacle Course Rental is the answer! This brightly colored 2-person obstacle course lets challengers run, climb, crawl & hop their way to victory. What better way to create friendly competition at your next team building event, community event or beach party. The competition will be repeated over and over as guests try to beat their previous times and want a rematch to earn bragging rights. This 40' Obstacle Course will be great on its own, but you have the option to combine more courses for volume pricing. Have more fun for less!
A professionally trained attendant will provide guests with an overview of the obstacle course before the fun and make sure everyone is having a safe experience. Be the envy of your neighbors after your neighborhood party was taken to the next level with this crazy fun 40' thrill. Selfies and action shots will pop with the bright purple, yellow, red, blue & green colors. Next time you're wondering what can make the church event, sporting event or corporate party amazing, consider adding the 40' obstacle course to your entertainment lineup. Your event goers will watch, cheering on their friends in anticipation of their turn.
Reserve This Rental Today!